HPDE – First Day at the Track
High Performance Driving Event (HPDE) – Introduction
Driving on a race track for the first time can be intimidating, but we have an awesome team of instructors that are there to help you every step of the way!  Below are some recommended ways to prepare for your first HPDE event.

Stuff to Bring
You'll want to bring some creature comforts to the track, such as a camping chair, sun umbrella, and a cooler of water or Gatorade.  It's important to remember to take care of yourself as well as you take care of your car during this event.  Even the slightest bit of dehydration can lead to fuzzy thinking, and you definitely want a clear head on the track.  The track café is open to the public, but be prepared with your own snacks, too.  It's important to keep your energy up through the day as there is a lot of new information to process.  Bring CASH!  There may or may not be an ATM on site, so be prepared in case last minute items are needed and cards are not accepted.

Prepare Ahead
You may have heard about the "racing line" on a track.  The racing line is something you will learn in your first HPDE 1 event with your instructor.  To learn the line ahead of time, download and study the track map for your event.  Next, search YouTube by track name for in-car camera views.  Look for cars similar to your own, driven by experienced drivers. Use the map and videos together to get familiar with the circuit.  Get used to wearing a helmet in your car.
Review the HPDE CCRs (sections 3-11).  There are two pages of track flags that you can familiarize yourself with ahead of the game.  You'll really impress your instructor if you come to the track already knowing these flags.

Get Your Car Ready
Inspect your car for the following:
Wheels and tires: Be sure your tires have the appropriate air pressures and that your lug nuts are tight.  No cracks, dents, or damage to the tire edges.  Tire tread should be above the wear bars.  No cords or belts showing.  No tires repaired with plugs.  Hubcaps or "beauty rings" must be removed.
Steering & Suspension: Test the play in wheel bearings by grabbing the tire with both hands and trying to move the wheel side-to-side.  There should not be any play or sound.  There should no excess play in the steering: movement of the steering wheel should directly affect direction of the front wheels, without hesitation.
Engine: No fluid leaks. Battery fully secured by two bolts.  Battery terminals covered, to prevent arcs/sparks (fire) in an accident.
Brakes: The brake pedal should be firm, continually.  Check brake lines to ensure there are no cracks or leaks.  Check brake fluid level and clarity.  Brake pads must have greater minimal thickness than safe or necessary for street driving.  Test the brake lights.
Interior: Seats should be bolted in tightly.  Seat belts must be in excellent condition. Cars without fixed roofs must have a roll bar.
Safety Gear: A properly fitting helmet is required.  It should be snug but comfortable.  A little too snug is better than too loose.  Minimum rating is SNELL 2005 (SA2005 or M2005).  Newer helmets with SA ratings are strongly recommended.  Eye protection is required: face shield, goggles, or safety glasses.
Clothing: Wear natural fiber clothing.  Synthetic/man-made fibers are flammable unless specifically marketed as non-flammable.  Wear snugly fitting, closed toe shoes.  Most drivers like thin soles for pedal feel.
General: There should be no exposed wires.  The car should have a good gas cap that seals.
Ready to sign up?  Head over to our events page to register now!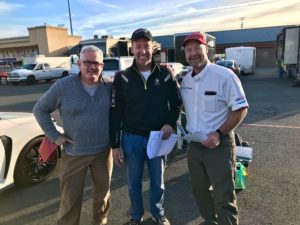 More questions?  Email us at [email protected] and we'll be happy to help.